Three new Cochrane Geographic Groups were recently launched in Nigeria, Kenya and Cameroon. Cochrane is an international network and works across 220 countries, aiming to provide the best possible research summaries to help guide health policy and practice. These new centres represent endorsement of leadership and excellence in the region, and these centres will help coordinate Cochrane activities in the countries and provide a credible reference institution for government in evidence-informed policy and practice.
The launch of Cochrane Kenya was celebrated at the Kenya Medical Research Institute (KEMRI) Annual Scientific and Health conference on 8 June 2021, closely followed by the launch of Cochrane Cameroon on 30 June and the launch of Cochrane Nigeria at the Cochrane Africa Indaba on 13 July. They join Cochrane South Africa, which opened as the South African Cochrane Centre in 1997 based at the South African Medical Research Council.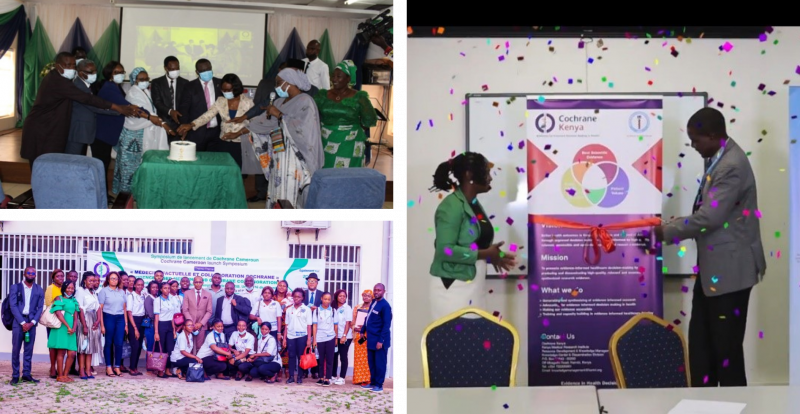 Whilst the centres were recently launched, their work tracks back many years. Cochrane research, training and advocacy in all four countries date back to the late 1990s with African collaborators working to produce high-quality reviews. Cochrane also helped to ensure their use in policy and practice through relationships with policy makers and practitioners, and training future review authors to do reviews on questions of regional relevance. 
African Cochrane authors were part of important systematic reviews in HIV/AIDS, tuberculosis, malaria and health systems in the late 1990s. The first formal programmes to build capacity included the HIV Mentoring Programme in collaboration with the Cochrane HIV/AIDS Group with the University of California, San Francisco and the Reviews for Africa Programme (RAP), a research and training grant awarded by the Nuffield Commonwealth Foundation which brought together Cochrane South Africa, the Liverpool School of Tropical Medicine, and the Cochrane HIV/AIDS Research Group. The main activities involved a fellowship programme with structured training, mentoring, and support for first-time Cochrane authors, pairing them with a mentor to work on their first Cochrane systematic reviews.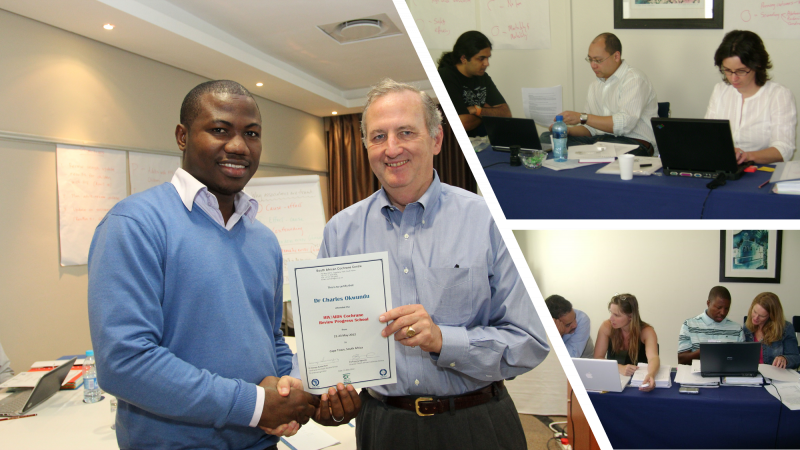 A number of the current leadership of the four Africa groups (including Dr Tamara Kredo of Cochrane South Africa, Dr Lawrence Mbuagbaw of Cochrane Cameroon, Professor Charles Obonyo of Cochrane Kenya, and Dr Emmanuel Effa of Cochrane Nigeria) did their initial Cochrane reviews as mentees on these programmes and built on this grounding to assist in establishing and developing the formally registered Cochrane Centres in their countries.  Review authors from the three centres have been part of collaborative research networks funded by DFID UK and led by the Liverpool School of Tropical Medicine (now the FCDO - Foreign, Commonwealth and Development Office) going back to 2005. This dedicated funding was an investment in building leadership in evidence synthesis and provided a basis for multiplier funding and expanded collaborative projects.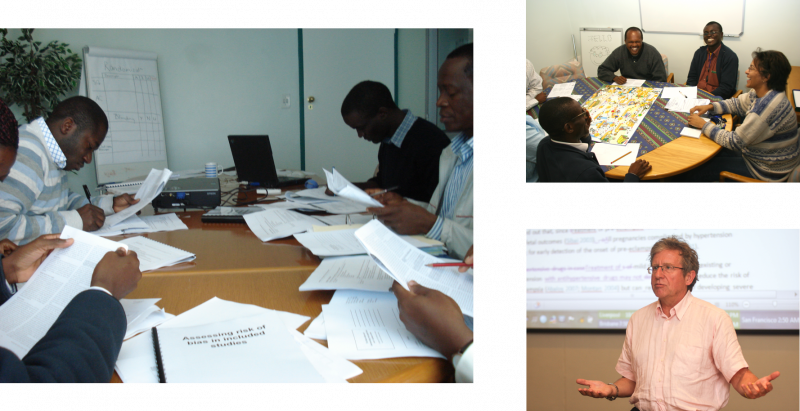 Cochrane Kenya is hosted by KEMRI and led by Professor Jennifer Orwa and Professor Charles Obonyo. "KEMRI is delighted to host Cochrane Kenya, as it will complement the efforts the institute has been putting in in promoting the use of research evidence in decision making among various stakeholders in Kenya," said Jennifer Orwa.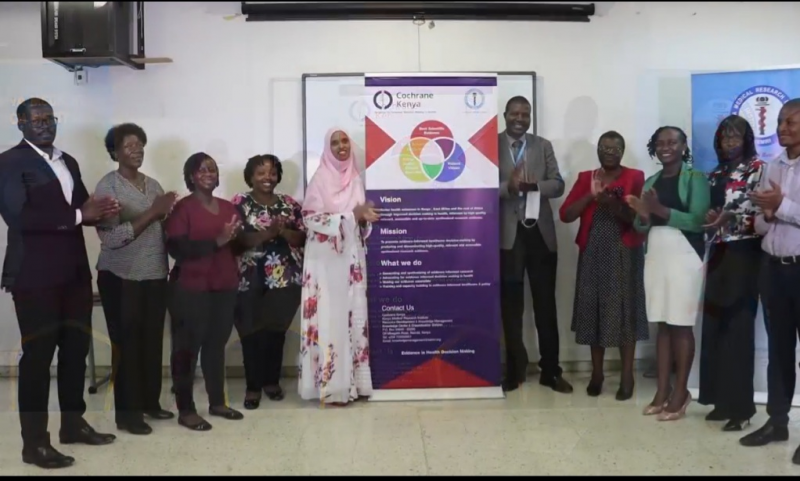 Cochrane Cameroon is based at the Hôpital Central de Yaoundé and led by Professor Pierre Ongolo-Zogo and Dr Lawrence Mbuagbaw. "There have been Cochrane activities in Cameroon for a long time especially in author training and development," said Lawrence Mbuagbaw. "Reviews by Cameroonian authors especially on HIV/AIDS have informed national and international guidelines, and impacted on the lives of people living with HIV. This launch is a huge step forward in our commitment to developing the evidence ecosystem in Cameroon."
Cochrane Nigeria is based at the University of Calabar Teaching Hospital and led by Professor Martin Meremikwu and Professor Angela Oyo-Ita, was initially established in 2006. However, with local institutional and grants support, training in evidence-based medicine and Cochrane systematic reviews began in 1999. Since then, the work of Cochrane has continued to grow and over 140 Nigerians have been involved as authors, members of Cochrane networks, and as Cochrane staff. "We hope to see a future of policy-maker and researcher-driven evidence synthesis towards informed policy making," said Emmanuel Effa, Senior Research Associate/Training Coordinator of Cochrane Nigeria.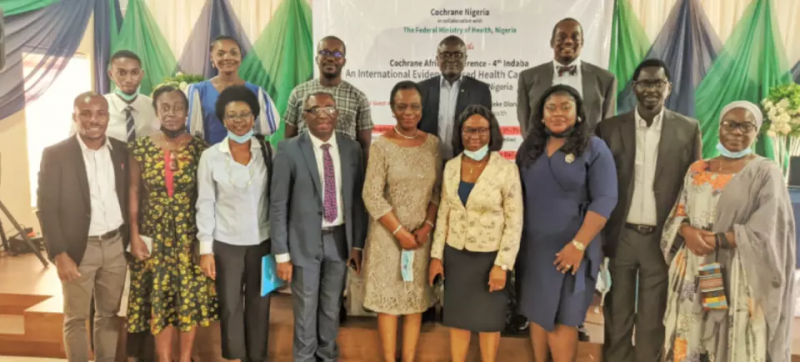 Regional responsibilities
Within their countries the four groups are committed to promoting evidence-based healthcare; translating research to policy and practice; advocating for evidence to promote access and equity in their country health-development agendas; and training other researchers and healthcare practitioners to conduct and use reviews. 
The groups also have regional responsibilities as part of the Cochrane Africa network along with the Centre for Evidence-based Health Care at Stellenbosch University, South Africa. Cochrane Kenya will offer national and regional support in East and Central Africa, Cochrane Cameroon will focus on Francophone African countries, and Cochrane Nigeria will focus on West Africa.
Cochrane Africa was initially established as an informal network in 2007, created to build on the strong track record and to expand activities. It was officially launched at the Global Evidence Summit in Cape Town in 2017 with a vision to increase the use of best evidence to inform healthcare decision making in sub-Saharan Africa by supporting and training review authors, as well as working with clinicians, professional associations, policy makers, patients, and media to encourage the use of Cochrane evidence.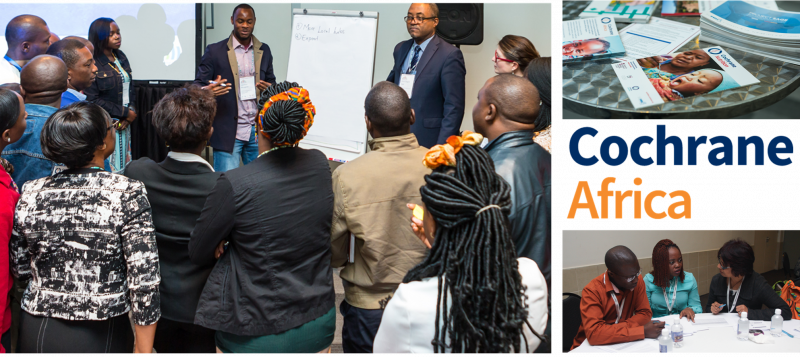 The increased presence of Cochrane in sub-Saharan Africa means the increased conduct of relevant reviews based on priority setting, identification of research gaps, and regional needs. The expansion is important for improved health outcomes in Africa. The continent's health and healthcare challenges are huge, and with limited resources and fragile health systems in many countries it's vitally important that the decisions of Africa's doctors, nurses and policy makers are made on the basis of the best evidence. 
"Cochrane Cameroon, Kenya, and Nigeria will build on an important Cochrane goal of ensuring far more representation in Africa," said Solange Durão, Cochrane Africa co-director. "We are grateful to the support from DFID/FCDO over many years in supporting the network."